DISRUPTING DH (#GWDH15): Summaries and Blogroll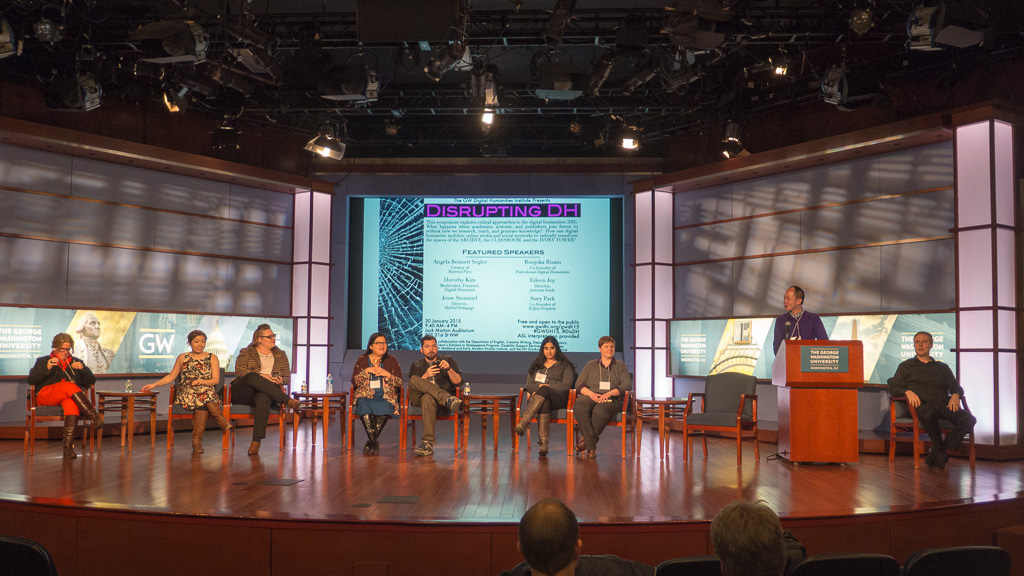 On Friday, January 30, the GW Digital Humanities Symposium 2015 (DISRUPTING DH) took place at Jack Morton Auditorium. About eighty people attended the event, which brought together academics, activists, publishers, librarians, archivists, students (graduates and undergraduates), GW alumni, and interested members of the public.
As publicized on the event website, the aim of the day was to assemble different kinds of people to think critically about Digital Humanities (DH) communities and practices. How do academics, activists, and publishers join forces to change spaces of the archive, the classroom, and ivory tower? This event also nicely dovetailed with Disrupting the Digital Humanities, a collaborative effort launched at the 2015 Modern Language Association Convention in Vancouver; a collection of essays (edited by Dorothy Kim and Jesse Stommel) will be published in a variety of platforms by punctum books.
Rather than providing one authoritative account of the event in this blog space, we instead would like to bring direct you to the variety of perspectives that have already appeared online:
Other blog links:
The event was actively live-tweeted via the #GWDH15 and #DisDH hashtags. Note these archives:
And finally, a few of our presenters have made their materials available to the pubic:
Podcasts of the presentations by Angela Bennet Segler and Dorothy Kim can also be found in the first section of Eileen Joy's In the Middle posting.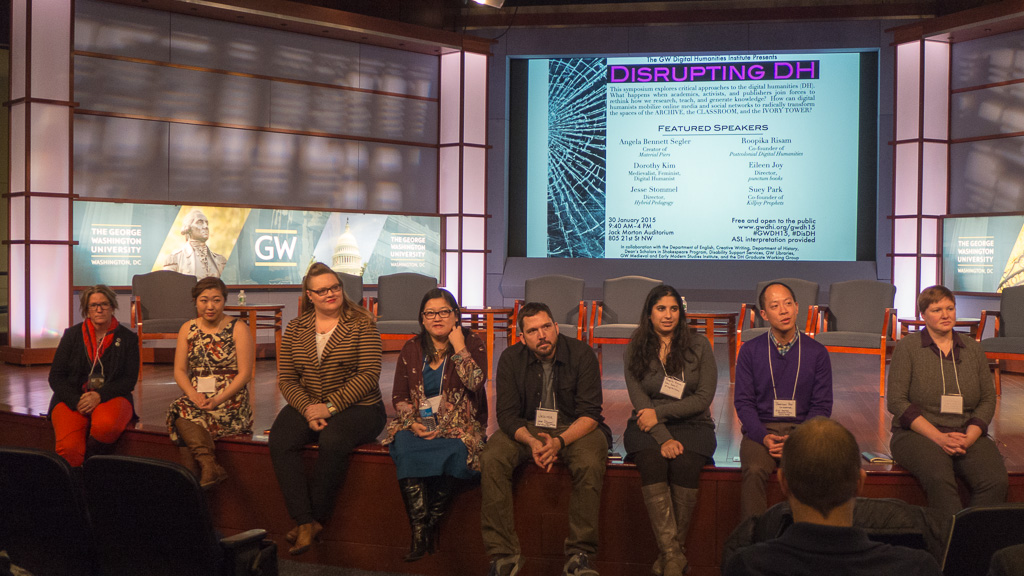 Big thanks to all the speakers, introducers, staff, and volunteers who helped make this event a success (especially M Bychowski and our current DH Grad Assistant Shyama Rajendran). We hope that the conversations that began on that day will continue to unfold "in real life" as well as in digital spaces.