One week away: DISRUPTING DH (Friday, January 30)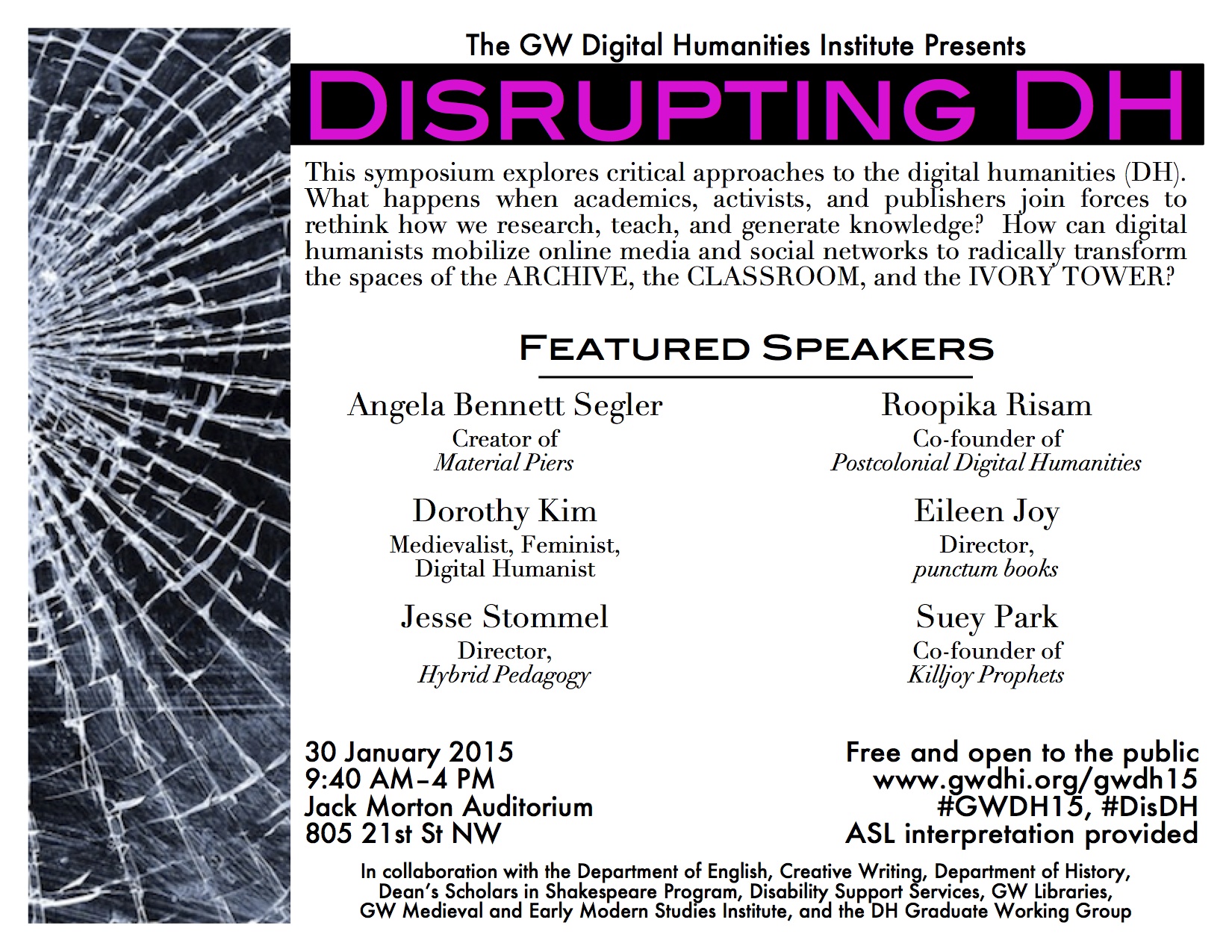 GW Digital Humanities Symposium 2015: DISRUPTING DH
Date: Friday, January 30, 2015 Time: 9am – 4pm (with coffee breaks, followed by reception) Venue: Jack Morton Auditorium (805 – 21st Street NW, First Floor)
This symposium explores critical approaches to the digital humanities (DH). What happens when academics, activists, and publishers join forces to rethink how we research, teach, and generate knowledge? How can digital humanists mobilize online media and social networks to radically transform the spaces of the ARCHIVE, the CLASSROOM, and the IVORY TOWER?
Featuring:

Angela Bennett Segler (creator of Material Piers)
Eileen Joy (Director, punctum books)
Dorothy Kim (medievalist, feminist, digital humanist)
Roopika Risam (Co-founder, Postcolonial Digital Humanities)
Jesse Stommel (Director, Hybrid Pedagogy)
Suey Park (Co-founder, Killjoy Prophets)
Sponsored by the GW Digital Humanities Institute, in collaboration with the Department of English, Creative Writing, Department of History, Dean's Scholars in Shakespeare, Disability Support Services, GW Libraries, GW Medieval and Early Modern Studies Institute, and the DH Graduate Working Group.
Event website: www.gwdhi.org/gwdh15 (or go directly to the program)
Twitter hashtags: #GWDH15 #DisDH
Event is wheelchair accessible with live ASL interpretation
This event is FREE and open to the public, but registration is required. Please email your name (and, if you wish, your title/affiliation) to sraj2404 at gwu dot edu with the subject heading GWDH15.