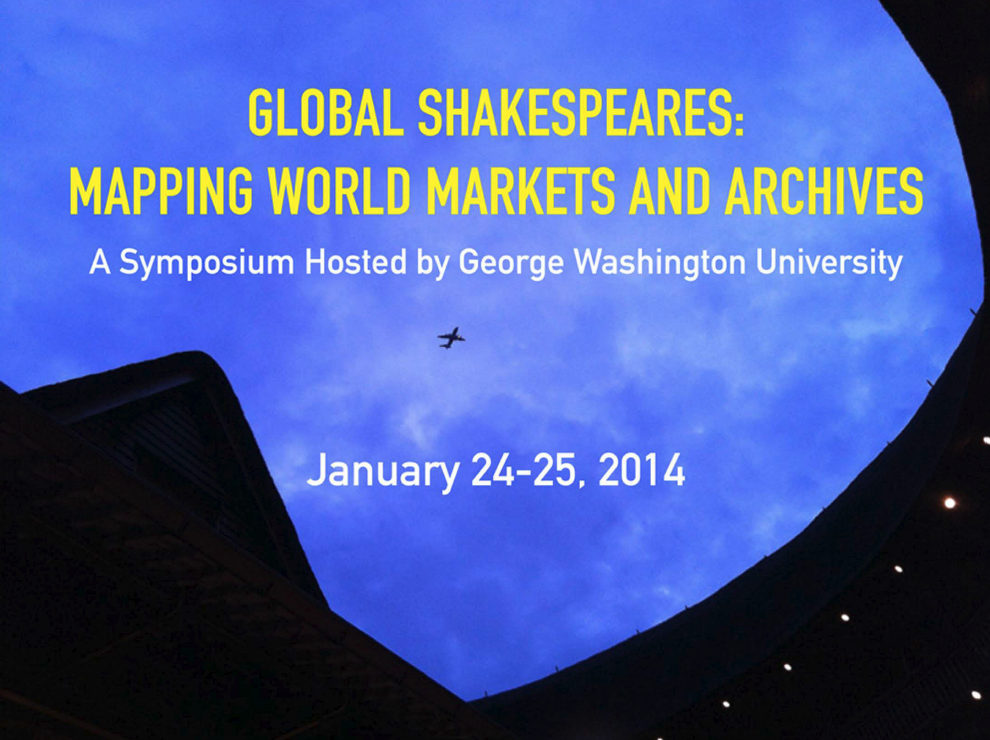 Global Shakespeares: Mapping World Markets and Archives
A Symposium hosted by George Washington University
January 24-25, 2014
ABOUT
Organized by Alexa Alice Joubin and co-sponsored by the George Washington University Medieval and Early Modern Studies Institute (MEMSI), Department of English, Digital Humanities Institute, Dean's Scholars in Shakespeare Program, and Gelman Library.
This symposium seeks to explore Shakespeare through the lenses of world markets and archives. Performances of Shakespeare in different cultural contexts are changing the ways we think about scholarship and globalization. In this symposium, practitioners and scholars will challenge audience members to rethink our present moment of globalization.
Shakespeare is a local force to be reckoned with in the global marketplace and in digital and analog archives of collective memory. With the 450th anniversary of Shakespeare's birth in 2014 and quatercentenary in 2016, there are several high-profile instances of global Shakespeare being tapped for its market value. The exchange value of Shakespeare is reflected in uses of Shakespearean themes and artifacts in appropriations, cultural diplomacy, and venues where nation states project soft power. There are no world markets without the proliferation of archives built on collective cultural memory. Conversely, there would be no archives without the cultural marketplace to validate that Shakespearean artifacts are archive-worthy in the first place.
Featured speakers include
Julie Taymor, award-winning director
Harry Lennix, acclaimed actor
Amanda Bailey, University of Maryland
Jeffrey Butcher, George Washington University
Richard Burt, University of Florida
Thomas Cartelli, Muhlenberg College
Christy Desmet, University of Georgia
Sujata Iyengar, University of Georgia
Alexa Alice Joubin, George Washington University
Eric Johnson, Folger Shakespeare Library
Kendra Leonard, Independent Scholar
Adele Seeff, University of Maryland
Ayanna Thompson, George Washington University