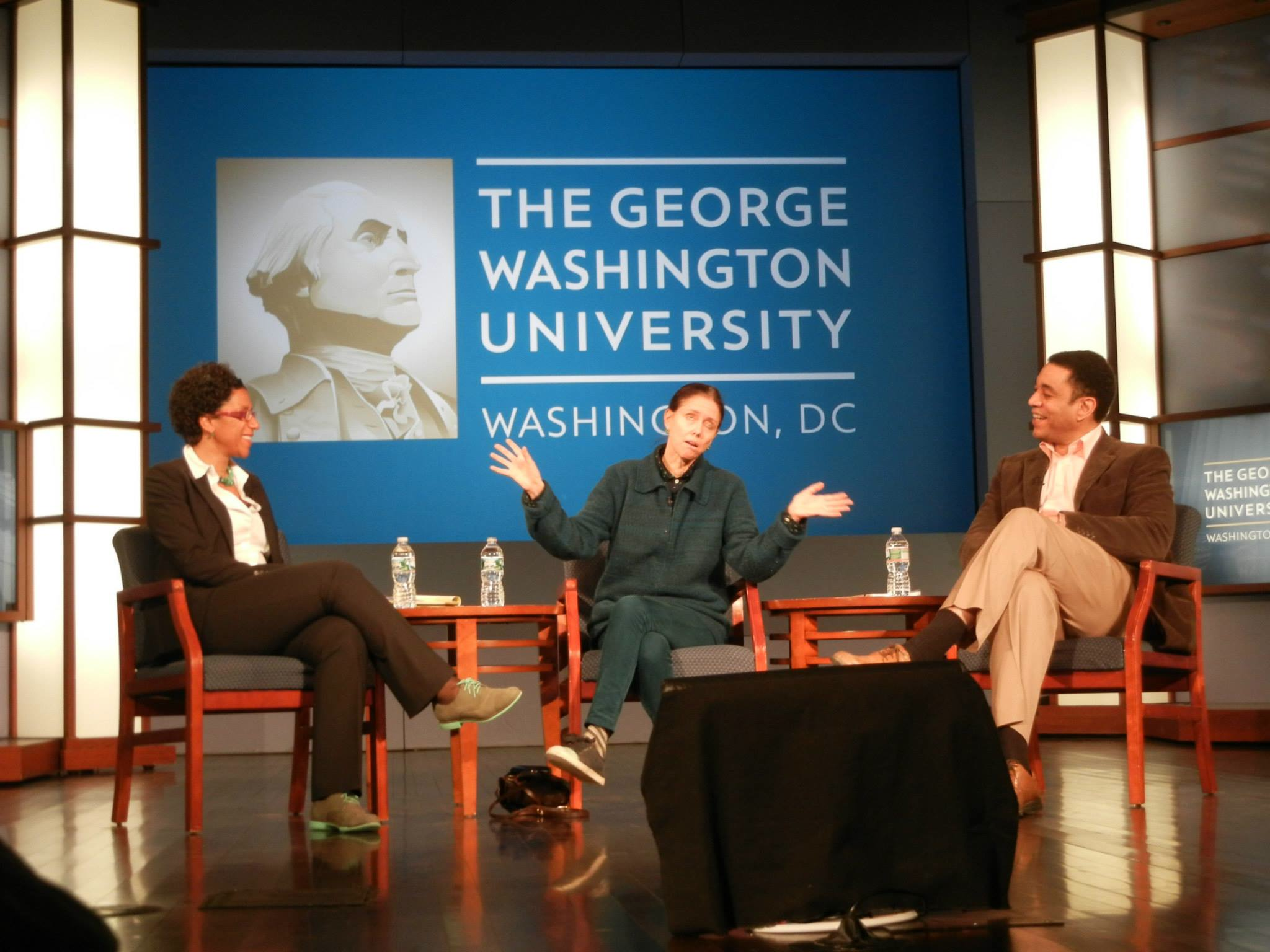 Unless otherwise indicated, all events listed are free and open to the public.
Other Talks and Events 
Public Interest Technology Showcase, April 15, 2021: featuring Alexa Alice Joubin, John Helveston, and Costis Toregas. The professional field of public interest technology is working to shape the way we think about technology to solve public problems in an inclusive and impactful manner. This cross-cutting field of research brings together disciplines such as engineering, data science, humanities, public policy and law. 
GW Composing Disability Symposium April 7-8, 2016, featuring Alexis Lothian (UMD), Women's Studies scholar focusing on fandom studies, speculative fiction, social justice, and digital media; David Perry (Dominican University), a disability journalist, activist, and author; Rachel Vorona Cote, a freelance writer; and Alice Wong (UCSF), Founder and Project Coordinator of the Disability Visibility Project (participating virtually). "Composing Disability" was co-sponsored by the GW Digital Humanities Institute, Disability Support Services, Department of English, GW Medieval and Early Modern Studies Institute, and University Writing Program.
Annual Digital Humanities Showcase, February 12, 2106. Co-sponsored by XD@GW (Office of Cross-Disciplinary Collaboration, directed by Diane H. Cline) and GW Libraries. Presenters representing Classics, The Elliott School, Corcoran School of the Arts and Design, Philosophy, Statistics, Health Sciences, the DC Africana Archives Project, and more. 
XD@GW Faculty Cooperative launch event, December 10, 2015.
Open Access Salons hosted by GW Libraries, October 21 and 27, 2015. 
Vexed Texts: Recoding Cultures, October 8, 2015. Interdisciplinary multimedia conversation co-organized by the Digital Humanities Institute and MEMO (Medieval Electronic Multimedia Organization). Participants: Alexa Alice Joubin (Co-Director, DH Institute); Anna Wilson (University of Toronto), Carol L. Robinson (MEMO), Kendra Preston Leonard (Director, Silent Film Sound & Music Archive), Biennial Meeting of the BABEL Working Group.
Transformative Digital Humanities: Doing Race, Ethnicity, Gender, Sexuality, Disability, and Class in DH" and THATCamp, University of Maryland, October 2-3, 2015. 
Inaugural Digital Humanities Showcase, February 20, 2015. Organized by the Digital Humanities Institute with Shira Loev Eller (Art and Design Librarian, Gelman Library) and co-sponsored by GW Libraries and the CCAS Office of Cross-Disciplinary Collaboration. Participants from Classics, English, GW Libraries, History, Japanese, Jewish Cultural Arts, and the US Holocaust Memorial Museum]. Access presentation abstracts here.
Early Modern Recipes Online Collective (EMROC), Jan 12 -13, 2015, by Rebecca Laroche (University of Colorado-Colorado Springs). 
Plagues, Witches, and War: A MOOC Postmortem by Bruce Holsinger (University of Virginia), December 5, 2014.
Interdisciplinary Panel on Writing and Publishing in LGBT Studies, October 31, 2014. Event moderated by Jonathan Hsy (Digital Humanities Institute); featuring Kimberly Acquaviva (Nursing), Lisa Bowleg (Applied Social Psychology), Robert McRuer (English), and Bonnie Morris (Women's Studies).
The Social Networks of Socrates in Classical Athens: SNA and the Digital Humanities by Diane H. Cline (History), October 22, 2014. 
Brown Bag Lunch on digital humanities, Naomi Schoenbaum, August 1, 2014.
Programming Workshop with Prof. Daniel DeWispelare (English), May 12, 2013. Organized by Maia Gil'Adi, for the English Graduate Student Association (EGSA)
THATCamp: The Humanities and Technology Camp, April 26, 2014. Read more about the event in this invitation (PDF or Word). Read more here on the GW Digital Humanities Institute website
Omeka Tutorial, featuring Patrick Murray-John (George Mason University), April 19, 2014. Organized by Tawnya Ravy.
Coding and Database Tutorial, April 5, 2014, with Prof. Daniel DeWispelare (English), organized by Maia Gil'Adi for EGSA.
Mermaids, Cables, and the Deep Sea: The Telegraphic Imaginary in the 19th Century by Claire Pettitt (King's College, London), February 24, 2013
Teaching Digital Writing by Joe Harris (University of Delaware), February 18, 2013. Co-sponsored by the University Writing Program and Academy of Distinguished Teachers
Feb 20: #AltAc / #PostAc: Rethinking the PhD Job Search in the Humanities, February 20, 2013. Organized by Holly Dugan) and featuring Sarah Werner (Digital Media Strategist, Folger Shakespeare Library), Evan Rhodes (Executive Advisor, Corporate Executive Board), Meredith Hindley (National Endowment for the Humanities), Alyssa Harad (author and blogger); Miriam Posner (Digital Humanities Program Coordinator, UCLA). For more, listen to this podcast and follow Sarah Werner's presentation online.
Freedom, Responsibility, E-Publishing, and Building New Cultural-Intellectual Publics by Eileen Joy (Director, punctum books), November 14, 2013. Read the full text of the talk here.
Digital Scholarship and Careers in the Humanities by Andrew Jewell (University of Nebraska-Lincoln), September 12, 2013.