Co-Director Receives Two Awards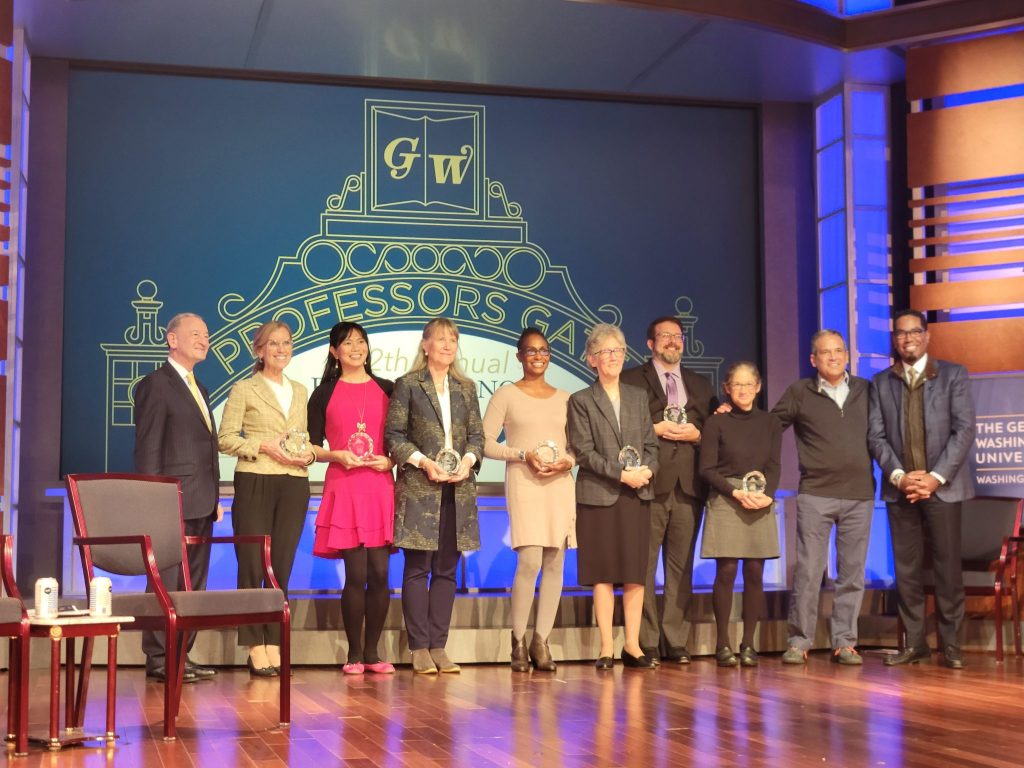 Fall is the harvesting season. Several English department graduate students and faculty were honored at the 12th Annual Faculty Honors Ceremony on October 18, 2022 at George Washington University. This ceremony honored awardees from 2022 and those from 2020 and 2021 who did not have an in-person ceremony due to the pandemic. Their teaching and research model best practices, and we recognize and celebrate their achievements.
GW Digital Humanities Institute founding co-director Alexa Alice Joubin received the Trachtenberg award for research as well as a Writing in the Discipline teaching award in 2022.
Both awards recognize Prof. Joubin's innovations in research on digital humanities and her digital pedagogies.
Overseen by the GW University Writing Program, Writing in the Disciplines (WID) courses are "designed to help students develop a robust writing practice throughout their academic careers, starting with intensive attention to writing in a specific topic area."
Professor Joubin received the WID award in recognition of her "excellence in assignment design and implementation" in her courses on critical race and gender studies. One of the assignments she designed uses an open-access collaborative annotation platform to encourage reading and writing as a communal, rather than solitary, enterprise. Sustained student engagement builds a community through critical writing.
The award committee stated that:
Whereas many of us turned to online tools due to the exigencies of the pandemic, Professor Joubin's practice bears none of the hallmarks of emergency or make-do usage. Instead, her pedagogy forms a foundational base for students' writing, helping them practice key disciplinary moves in close reading, interpretation, and response, preparing them for the work of the more formal writing assignments.
The Trachtenberg award recognizes outstanding research accomplishments. It was established by George Washington University President Emeritus Stephen Joel Trachtenberg in memory of his parents. The award is meant to honor faculty scholarship and demonstrate the University's commitment to research and creative endeavors.
Nominators of Prof. Joubin, including the co-director of GW Humanities Center, wrote that:
Professor Joubin's research has a truly global impact. Having published four acclaimed monographs with leading presses including Columbia and Oxford University Press and (co)edited sixteen books, Prof. Joubin is doing groundbreaking work that speaks to our moment in history and our hope for the future."
and that:
Through her work on gendered and racial otherness, she has made a palpable and positive impact on our society and academia. Her contributions to the field of global Shakespeare have been helped shape the contours of this field as they exist today.