Library Carpentry: Tools for Humanists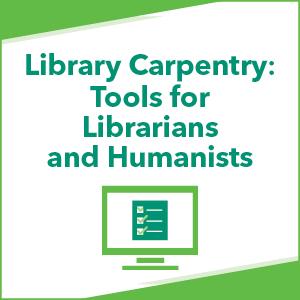 December 16-17, 2021 (9 am – 4 pm each day)
Join us for this two day workshop hosted by GW Libraries. It is designed to help humanists become more confident and skilled users of computational tools for text analysis.
    This in-person workshop will take place December 16-17 and includes an introduction to common data and coding jargon, followed by sessions on regular expressions, OpenRefine, and Python. You don't need to have any previous knowledge of the tools that will be presented at the workshop.
Instructors: Laura Wrubel, Dolsy Smith, Leah Richardson
    We will work with datasets drawn from the library's rare book collection, specifically the first collection of the Columbian College library. We will also use data from the HathiTrust Research Center and give a brief overview of that resource for textual data.
    If you are interested in learning more about processing and analyzing text-based data to support your work or research please consider registering.
     The full schedule and details are on the workshop website. This workshop is open to all GW faculty, students, and staff, and registration is required.
     To get the most of this opportunity the instructors ask that you commit to attending the full two days.
________________________
Day 1
| | |
| --- | --- |
| Before Starting | Pre-workshop survey |
| 9:00 | Introductions and Set-up |
| 10:00 | Jargon Busting |
| 10:30 | Morning break |
| 10:45 | Intro to Hathi Trust Research Center (HTRC) and OpenRefine part 1 |
| 12:00 | Lunch break |
| 1:00 | OpenRefine part 2 |
| 2:15 | Afternoon break |
| 2:30 | Introduction to Python |
| 4:30 | END |