2016 Composing Disability Symposium and "Digital Amphibians" Roundtable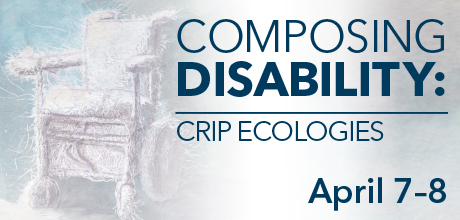 Mark your calendars! "COMPOSING DISABILITY: Crip Ecologies" is coming: this week, Thursday, April 7th to Friday, April 8th, here at GW!
This interdisciplinary symposium conclude with a Digital Humanities (DH) roundtable entitled "Digital Amphibians: Parallel Lives and Media Publics" on Friday, April 8th, from 5:15-6:30 P.M in Jack Morton Auditorium.
"Digital Amphibians" will feature Alexis Lothian (UMD), Women's Studies scholar focusing on fandom studies, speculative fiction, social justice, and digital media; David Perry (Dominican University), a disability journalist, activist, and author; Rachel Vorona Cote (freelance writer); and Alice Wong (UCSF), Founder and Project Coordinator of the Disability Visibility Project (participating virtually).
There will also be a poetry reading and reception after the symposium!
The entire event is FREE and open to the public, but registration is required.
Find the full conference schedule and more information on the event website.
Jack Morton Auditorium (the venue for the DH roundtable) is wheelchair accessible and ASL interpretation is being arranged for the entire conference (including all keynotes, roundtables, and breakout sessions).
This two-day event is co-sponsored by the GW Digital Humanities Institute, Disability Support Services, the Department of English, the GW Medieval and Early Modern Studies Institute, and the University Writing Program.
Note this full archive of #CompDis16 live tweets and this Alice Wong's curation of live-tweets from the "Digital Amphibians" roundtable.